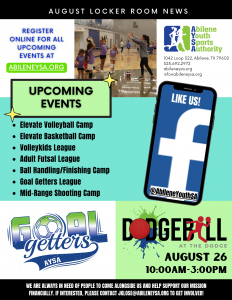 ————————————————————————————————————————————————————————————-
CITY LEAGUES
Please check below to see what leagues are saying in regard to their Fall seasons. All responses have come directly from each league's website/Facebook/Email. If you have any questions, please get with your league to get them answered! Please check leagues' individual websites for more information about season information, schedules, practices, rosters, and any important information.
League News & Upcoming Season Info
Youth Tennis  –
Contact Casey Chapa at 325-455-4770 or call Rose Park Tennis Center at 325-676-6292
Calling all doubles and singles players Abilene's September, October, and December UTR is here!!
– Singles will be played on Saturday
– Doubles will be played on Sunday
Concerning extenuating situations for time-slots/match times, it is the obligation of each player to ensure they are available for their matches as assigned by the Tournament Director (TD). Requests to have alternate match times will be reviewed and honored at the TD's discretion based on the tournament schedule and other factors they deem appropriate.
Additionally, to remain consistent with USTA's regulation, there will be no coaching players by coaches, parents, family, friends, etc. unless it is between the 2nd and 3rd sets.
Link to Setember's Sign ups: https://app.universaltennis.com/events/183605?fbclid=IwAR3IB90itBoxzNCU8nFjZi_0V1MTAgRu2ypBS-Q0vqmOpkjMBgsUg5Pl424
Youth Basketball
AYSA – all our basketball programs are listed HERE
Youth Baseball
Abilene Eastern LL – no August update
(ACS, Bowie, Craig, Purcell, Stafford, Thomas, & Taylor)
Abilene Southern LL – no August update
(Alcorta, Bassetti, or Ward)
Abilene Dixie LL – no August update
(Jane Long, Martinez, Ortiz)
Wylie LL – no August update
Youth Softball
Abilene Fastpitch Softball Association – 
Fall 2023 Softball Registration:
Redbud Softball Complex
Register through August 31st | Games start September 11th
Individual player $100 | Bring your own team $400
New playing age as of 8/31/23 | 8u, 10u, 12u, 14u
Calling all FALL BALL players,
We have been getting a lot of messages about individual sign ups, and they will be open soon. However, fall ball you can bring your whole team. If anyone needs help with flyers, or tryouts, please send us a message. We will help with registration also. USSSA is a little different, but cost is down $100 from last year. We have board members in all age groups to help with any questions. Division reps are posted on our website.
We are sorry to inform everyone but there will be No softball this season.
Big Country Let The Bucs Freshen You Up With Our Custom Fresheners
Orders Due Aug 8th Find A Buc Family Nearest You & Get Your Orders In ASAP
Youth Hockey
https://www.abileneysa.org/wp-content/uploads/2019/07/AYSA-Logo-Web-300x138.jpg
0
0
Tucker Smith
https://www.abileneysa.org/wp-content/uploads/2019/07/AYSA-Logo-Web-300x138.jpg
Tucker Smith
2023-07-27 20:30:50
2023-07-27 20:33:15
August Locker Room News