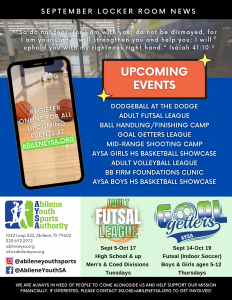 ————————————————————————————————————————————————————————————-
CITY LEAGUES
Please check below to see what leagues are saying in regard to their Fall seasons. All responses have come directly from each league's website/Facebook/Email. If you have any questions, please get with your league to get them answered! Please check leagues' individual websites for more information about season information, schedules, practices, rosters, and any important information.
League News & Upcoming Season Info
Youth Tennis  –
2023-2024 group schedule for beginners as young as 3 year old up to advanced Middle School players!
To register call the pro shop at 3256766292!
Kyle/Sharon's Tourney
When: Wed., October 4
Why: in honor of Kyle Williams and Sharon Wartes—fundraiser for college scholarships
Time: 9 to 1 (or until finished)
Where: Fairway
(ACC South)
Format: USPTA scoring
2 matches
Get a partner
Entry fee: $50 each
$100 team
Donations are appreciated
🩷
Deadline: wed., Sept. 27
Contact: Leanne Scott
325-518-3874
Youth Basketball
AYSA – all our basketball programs are listed HERE
Youth Baseball
We regret to say that Eastern Little League will not be hosting Fall Ball this Fall. We encourage you that if you are interested in Fall Ball to sign up with Northern Little League for Fall Ball at abilenenorthernlittleleague.org. Their registration is open until August 25th and they are the only league offering it this season. Fee is $80. We are sorry once again for not offering it this Fall and look forward to seeing all Eastern Little League players in the Spring. Spring registrations will be posted by later on this year. Be on the lookout
.
(ACS, Bowie, Craig, Purcell, Stafford, Thomas, & Taylor)
Southern will not be hosting fall ball this year, but we encourage anyone interested to sign up with Abilene Northern Little League.
(Alcorta, Bassetti, or Ward)
Abilene Dixie LL – no September update
(Austin, Bonham, & Dyess)
Fall Ball registration: https://clubs.bluesombrero.com/Default.aspx?tabid=1310283
Fall Ball is open to anyone who wants to play regardless of boundaries!
Registration closes August 25th. The season starts September 11. It will be a 10-game season with 2 games per week.
(Jane Long, Martinez, Ortiz)
Wylie LL – 
We will NOT be having a fall ball season!
For all of those looking for a place to play fall ball!!
ACU Baseball will be hosting their annual "Fall League" this upcoming fall. Below is a flyer with information and contact info if there are any questions to be answered!
Please share with your friends and family! I believe this is a great opportunity for kids in the community to receive great baseball instruction during the fall. I would love to really blow this thing up. Thank y'all!
Youth Softball
Abilene Fastpitch Softball Association – 
Hi y'all!! Register as soon as you can so we have a better idea of how many teams we'll have for fall ball!
Fall 2023 Softball Registration:
Redbud Softball Complex
Register through August 31st | Games start September 11th
Individual player $100 | Bring your own team $400
New playing age as of 8/31/23 | 8u, 10u, 12u, 14u
https://www.leaguelineup.com/welcome.asp?url=afsa&fbclid=IwAR0Z1tgzKOZvugMxFDIHG_ZRfSxFfRVWqCVXXfpQztfDCVINqT8WO7l3QYw
ⒻⒶⓁⓁ ⒷⒶⓁⓁ ⓇⒺⒼⒾⓈⓉⓇⒶⓉⒾⓄⓃ
Insurance and City of Abilene player fees included.
We are sorry to inform everyone but there will be No softball this season.
Abilene Youth Football Is Back, Come Out This Saturday, August 26th, & Enjoy These Youth Athletes
Bucs vs Wylie Bulldogs
Tykes- 9am
Rookies- 11am
Flag- 1pm
Juniors- 2:30pm
$5 gate fee | 3 and under free
Curly Hayes in Abilene
Youth Hockey
Youth Registration
Saturday August 26th 10a-12p at the rink!
Player Evaluation #1
Monday August 28th
10u: 6p & 18u: 730p
Please be there early to check in at the table and get your child's evaluation jersey to help the coaches identify your child!
Player Evaluation #2
Saturday Sept. 2
10u: 9a & 18u: 1030a
Both Evaluations are important to the process of picking teams so please be at both! We will work on picking teams and making schedules on Sept 2nd to announce shortly after!
https://www.abileneysa.org/wp-content/uploads/2019/07/AYSA-Logo-Web-300x138.jpg
0
0
Tucker Smith
https://www.abileneysa.org/wp-content/uploads/2019/07/AYSA-Logo-Web-300x138.jpg
Tucker Smith
2023-08-24 21:01:40
2023-08-24 21:01:40
September Locker Room News