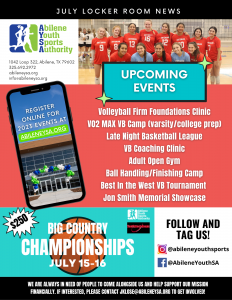 ————————————————————————————————————————————————————————————-
CITY LEAGUES
Please check below to see what leagues are saying in regard to their Fall seasons. All responses have come directly from each league's website/Facebook/Email. If you have any questions, please get with your league to get them answered! Please check leagues' individual websites for more information about season information, schedules, practices, rosters, and any important information.
League News & Upcoming Season Info
Youth Tennis  –
Weekly Summer groups for 10 and under and Middle School begin June 12th!
Tiny Tots (3-6 yr old)- Monday 9:00am-9:30am ($5 for members/$7.50 for nonmembers per class)
Beginner/Orange Ball Tournament Training- Monday 9:30am-11:00am ($20 for members/$25 for nonmembers per class)
Green Ball/Middle School Prep- Tues, Wed, Thurs: 9:00am-11:00am ($25 for members/$30 for nonmembers per class or $60 for members/$75 for nonmembers per week)
Contact Casey Chapa at 325-455-4770 or call Rose Park Tennis Center at 325-676-6292
Calling all doubles and singles players Abilene's September, October, and December UTR is here!!
– Singles will be played on Saturday
– Doubles will be played on Sunday
Concerning extenuating situations for time-slots/match times, it is the obligation of each player to ensure they are available for their matches as assigned by the Tournament Director (TD). Requests to have alternate match times will be reviewed and honored at the TD's discretion based on the tournament schedule and other factors they deem appropriate.
Additionally, to remain consistent with USTA's regulation, there will be no coaching players by coaches, parents, family, friends, etc. unless it is between the 2nd and 3rd sets.
Link to Setember's Sign ups: https://app.universaltennis.com/events/183605?fbclid=IwAR3IB90itBoxzNCU8nFjZi_0V1MTAgRu2ypBS-Q0vqmOpkjMBgsUg5Pl424
Youth Basketball
AYSA – all our basketball programs are listed HERE
Youth Baseball
Abilene Eastern LL – no July update
(ACS, Bowie, Craig, Purcell, Stafford, Thomas, & Taylor)
Congratulations Wylie Minor All-Stars, on 1st place in the District 5 Championship
Congrats to the Snyder Minor All-Stars on 2nd place in the championship tonight!
(Alcorta, Bassetti, or Ward)
Our All-Star season has come to an end but the memories made, lessons learned and skills gained will last a lifetime. Thank you to everyone who supported these teams! Now it's time to summer!
(Austin, Bonham, & Dyess)
Good luck to our Senior All-Star Team playing in the sectional tournament this weekend!!!
(Jane Long, Martinez, Ortiz)
Wylie LL – 
Good luck to all of our All Star Teams playing in the sectional tournament this weekend!!! Go get the Win!!!
I hope that everyone is having a great summer! Wylie Little League will be hosting the Little League State Baseball tournament July 12th-17th. We are in need of medical volunteers to staff our first-aid station. Action sports medicine will have their air conditioned travel trailer there for the medical staff to use. All medical volunteers get 1-free meal per shift and free parking.
The link is posted below any help would be greatly appreciated. If you have any questions feel free to PM Justin Harrison. Thanks!!
Big changes this year! The 2024 season will be managed under the USSSA organization. Games start September 18th. Teams can sign up at USSSA.com. Sign up on the 2024 season under Wylie Fall Ball. Individual registration will be open by August 1st. Same as always, each player will be insured and we pay for umps. Send us a DM with any questions.
Just wanted to clarify a few things:
– You can live anywhere to play in this league, you DO NOT have to go to school at Wylie to play here.
– Team registration will be done through
usssa.com.
– Your age on December 31st, 2023 will determine the age group you play in September 1st, 2023.
– Individual injury insurance is included.
– Umpires make $35/45 per game. The league will pay for those. Let us know if you want to be an umpire
– 6U is definitely an age division.
Please contact us with any questions or concerns.
We are sorry to inform everyone but there will be No softball this season.
Youth Soccer
Big Country Soccer Association –
Big Country Soccer Association
FALL 2023 REGISTRATION IS HERE!
JOIN US!
Registration Dates: Now – July 24th
Late Registration Dates: July 25th – July 28th
Registration Fee: $75.00
Late Registration Fee $100.00
Ages 3-14 ( Must be 3 by August 31, 2023)
Discount code for Fall– SiblingFall2023
Youth Football 
CLICK HERE for all information on Abilene Football Leagues, including:
Abilene Hurricanes– no March update
July 1st is the deadline for registration!
Registration closed on June 5th and uniform fittings have taken place.
Congratulations to our 11U Bulldogs
Youth National Championship
#ChampionBred
Workouts & Uniform Fittings were on June 24th!
7u Tackle & Cheer Still Accepting Registrations Please Hit Link To Join or Come Out Tomorrow Morning (Scholarships Available)
#BUCUP
Youth Hockey
https://www.abileneysa.org/wp-content/uploads/2019/07/AYSA-Logo-Web-300x138.jpg
0
0
Tucker Smith
https://www.abileneysa.org/wp-content/uploads/2019/07/AYSA-Logo-Web-300x138.jpg
Tucker Smith
2023-06-30 19:45:12
2023-06-30 19:50:34
July Locker Room News