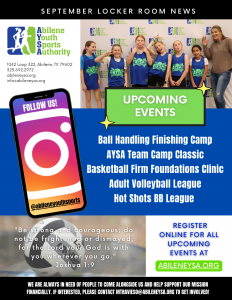 ————————————————————————————————————————————————————————————-
CITY LEAGUES
Please check below to see what leagues are saying in regard to their Fall seasons. All responses have come directly from each league's website/Facebook/Email. If you have any questions, please get with your league to get them answered! Please check leagues' individual websites for more information about season information, schedules, practices, rosters, and any important information.
League News & Upcoming Season Info
Youth Tennis  –
Rose Park Tennis Center Tennis Groups- Starting August 22
-Beginner Group Ages 4-9: Monday 5:30-6:30pm
$12.50/Members, $15/Nonmembers
-Beginner Group Ages 9 and up: Tuesday 5:00-7:00pm
$25/Members, $30 Nonmembers
-Middle School Group: Thursday 4:00-6:00pm
$25/Members, $30/Nonmembers
To sign up call the pro shop- 325-676-6292
For Questions text Casey at 325-455-4770
Youth Basketball
AYSA – all our basketball programs are listed HERE
Youth Baseball
LAST DAY OF FALL BALL REGISTRATION 9/1!!
Fall 2022 Registrations Are now OPEN!! We will offer 3 divisions this fall:
Advanced Coach Pitch, League Ages 6, 7, 8- Designed for players familiar with the game, but not yet ready for "Live Arm" kid pitching.
Beginner Kid Pitch "Live Arm", League Ages 9 & 10- Designed for players with no prior, or minimum (less than 1 year) of live arm experience.
Advanced Kid Pitch "Live Arm", League Ages 11-12- Designed for players with prior experience with Kid pitch baseball.
1 Practice per week, 1 game per week. All practices will be held Clinic Style, per division. The goal for fall ball is Player Development and Skill Improvement! See the link below to sign up!
(Lee, Johnston, Bowie, Thomas, Taylor, & ACS)
Baseball Camp – $35
Aug 8-9 from 9 AM to Noon
Fall Ball Wait List – $0
– Once activated $80
Sep 6 through Oct 22
Instead of taking $ upfront, we need to know what interest there is and if we have enough volunteers.
(Bassetti, Ward, or Jackson)
Abilene Dixie LL – no September update
(Austin, Reagan, Bonham, & Dyess)
Fall Ball registrations are officially closed.
(Jane Long, Martinez, Ortiz)
Wylie LL – 
Wylie Little League will NOT be hosting a fall league this season but we encourage anyone that is interested to visit these links and sign up for fall ball with Eastern LL or Dbat Abilene.
(Wylie Schools)
Jim Ned Little League will not be having a fall ball season this year. While we hate to not be able to accommodate those that have reached out, our little league neighbors to the north are having a season and have opened it up to everyone. Eastern Little League closes Fall Ball registrations on 9/1!
We will open up registration for our spring season towards the end of the year so please keep an eye on this page for updates!
USA Softball of Texas District 11 
Youth Soccer
Big Country Soccer Association –
The fall season will start the weekend after Labor Day and run to the first weekend in November. We are looking for a few coaches this season if anyone is interested please reach out to the office- bigcountrysoccer@gmail.com
Youth Football 
CLICKHERE for all information on Abilene Football Leagues, including:
Come out and support our teams at HOME this week!!
Cowboy Game Day!
Abilene Cowboys vs 806 Spartans
Flag- 10:00am
Tykes- 12:00pm
Rookies- 2:00pm
Juniors- 4:00pm
$5 entry- age 5 and under free
NO OUTSIDE FOOD OR DRINK ALLOWED
Cash, Venmo, Cash App, and card accepted at the gate.
HOME Game Schedule:
Sept. 3 vs CTX Jets @ Wylie stadium 9am/10am/11:15am/12:30pm/2pm/4pm/6pm
Sept. 10 vs Oak Cliff Titans @ Wylie Stadium 9am/10am/11:15am/12:30pm/2pm/4pm/6pm
**Homecoming** Sept. 24 vs PAC Prime @ Wylie Stadium 9am/10am/11:15am/12:30pm/2pm/4pm/6pm
Oct. 15 vs NTH Bills @ Wylie Stadium 9am/10am/11:15am/12:30pm/2pm/4pm/6pm
2022 New league info dropping soon! #BUCUP
Fall 2022 Registration is now OPEN!!!
Also, don't forget to get your insurance at
https://usarollerhockey.org
for the year and submit your confirmation to info@abilenehockey.com.
The deadline to register is going to be September 5 at noon.
Player evaluations for youth leagues will be on September 5th, 2022. Time to be announced at a later time.
League fees did go up this season if you have any questions or concerns please reach out to a board member we are always willing to help in any way we can.
https://www.abileneysa.org/wp-content/uploads/2019/07/AYSA-Logo-Web-300x138.jpg
0
0
Tucker Smith
https://www.abileneysa.org/wp-content/uploads/2019/07/AYSA-Logo-Web-300x138.jpg
Tucker Smith
2022-09-01 16:16:38
2022-09-01 16:16:38
September Locker Room News