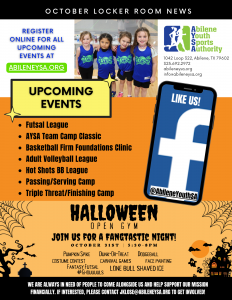 ————————————————————————————————————————————————————————————-
CITY LEAGUES
Please check below to see what leagues are saying in regard to their Fall seasons. All responses have come directly from each league's website/Facebook/Email. If you have any questions, please get with your league to get them answered! Please check leagues' individual websites for more information about season information, schedules, practices, rosters, and any important information.
League News & Upcoming Season Info
Youth Tennis  –
Beginner Group! Ages 4-9.
Monday's 5:30-6:30. $12.50/members, $15/nonmembers.
Contact the pro shop for questions and to sign up! Limited spots available. 325.676.6292
For Questions text Casey at 325-455-4770
Youth Basketball
AYSA – all our basketball programs are listed HERE
Youth Baseball
Schedules can be found on Abilene Eastern Little Leagues Facebook page!
(Lee, Johnston, Bowie, Thomas, Taylor, & ACS)
Baseball Bros is offering a Baseball/Softball PE Class for Homeschooled Students. Click the link for more info.
(Bassetti, Ward, or Jackson)
Abilene Dixie LL – no October update
(Austin, Reagan, Bonham, & Dyess)
Schedules can be found on Abilene Northern Little Leagues website!
October 22nd- Redbud Softball Fields – Games start at 9:00am
Umpires against players.
Registration fee $20 per player – prizes throughout the day – umpires challenge the players fundraiser one day event benefiting a local charity. Entry fee based per player portion of proceeds donated to a local charity.
More info contact Willie Beck (325) 439-1153
Abilene North Softball– no October update
Hearts of Gold 2022
If you have a team pic please post it. Your tournament director was exhausted and running from field to field because games were all ending at once!
A big THANK YOU to all of the teams who came to play, and congratulations to the winners!
8u Runner-up Diamondites
8u Champs Dirt Divers
10u Runner-up Stixx
10u Champs Chaos
12u Runner-up Thunder
12u Champs MW Chaos
14u Runner-up Texas Legends
14u Champs Mayhem
This tournament honors and benefits a charity or family that has been affected by childhood cancer.
One of this year's honorees, Sam, was able to attend and hand out the awards to the 14u teams. Those AMAZING girls turned around and handed their rings back to Sam as a gift. HEARTS OF GOLD!!!!!
Thank you to everyone who participated or attended to help raise money for deserving families.
Abilene Boys & Girls Softball Association – no October update
USA Softball of Texas District 11 
Youth Soccer
Big Country Soccer Association –
Youth Football 
CLICKHERE for all information on Abilene Football Leagues, including:
Oct. 1 2022 HOMECOMING
Flag: 10:00am – Tykes: 11:30am – Rookies: 1:30pm – Juniors: 3:30pm
Cowboys vs. Falcons
$5 gate fee
Age 5 and under free
Concession stand open
Cash app, Venmo, cash, and card are accepted.
NO OUTSIDE FOOD OR DRINKS ALLOWED. NO ICE CHESTS.
Next Home Game:
Oct. 15 vs NTH Bills @ Wylie Stadium 9am/10am/11:15am/12:30pm/2pm/4pm/6pm
National Opportunities With Our League
Stay Focused, Stay Positive, Stay Hungry For More
Joins us Monday October 3rd, 2022 from 6-9pm to support our youth league. 10 and under game starts at 6:30 and 18 & under starts at 7:30 @
Hockey rink located at Cal Young Park.
Great food and great entertainment!
https://www.abileneysa.org/wp-content/uploads/2019/07/AYSA-Logo-Web-300x138.jpg
0
0
Tucker Smith
https://www.abileneysa.org/wp-content/uploads/2019/07/AYSA-Logo-Web-300x138.jpg
Tucker Smith
2022-09-30 17:19:56
2022-09-30 17:19:56
October Locker Room News