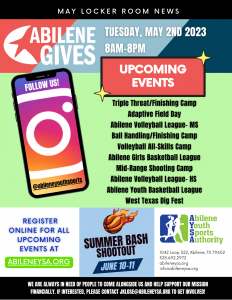 ————————————————————————————————————————————————————————————-
CITY LEAGUES
Please check below to see what leagues are saying in regard to their Fall seasons. All responses have come directly from each league's website/Facebook/Email. If you have any questions, please get with your league to get them answered! Please check leagues' individual websites for more information about season information, schedules, practices, rosters, and any important information.
League News & Upcoming Season Info
Youth Tennis  –
Beginner Group- Monday's 5:30-6:30pm
$12.50/Members, $15/nonmembers
Call Rose Park- 325-676-6292
Text Casey- 325-455-4770
ATA held their Senior Scholarship Reception this afternoon for the Seniors representing Abilene High Tennis, Cooper High School Tennis, Wylie High School Tennis and Abilene Christian School High School Tennis. There were 12 scholarships given in the amount of $500 each. 3 from ATA and 9 from the Kyle Williams/Sharon Wartes Scholarships. What a blessing for tennis in Abilene.
Youth Basketball
AYSA – all our basketball programs are listed HERE
Youth Baseball
CLOSING CEREMONIES will be MONDAY, MAY 15, 2023 @ 6:30PM at CAL YOUNG PARK MAIN FIELD.
Sponsorship Recognition, Board Recognition, Team Intros/Awards and All-Stars will be announced.
Mark you calendars and help us bring a close to a great 2023 Spring Season at Eastern Little League!!!
(ACS, Bowie, Craig, Purcell, Stafford, Thomas, & Taylor)
We are excited to share that we have 2 new prize drawings added… and ticket sales have been extended to May 8th!
Drawing #5 will be 20 uncirculated Silver Eagle one dollar coins donated by Big Country Gold Exchange Catclaw
Retail value: $2,000
Drawing #6 is a BestBuy 65″ Samsung Class 7 Series LED 4K UHD Smart Tizen TV.
Retail value: $500
(Alcorta, Bassetti, or Ward)
We hope you will join us May 7th for Dixie Little League Fun Day!
1:00pm- concessions open bbq plates- sandwich, chips, pickle $8
1:20pm- major home run derby & events on farm field
2:00pm- minor home run derby
3:00pm- alumni home run derby
3:45pm- dad home run derby
*this is a rolling schedule and events may take place ahead of the time listed*
$10 for 10 swings – cash only
(Austin, Bonham, & Dyess)
Our Closing Ceremonies will be May 18 @630pm at the Richard Garcia field !
(Jane Long, Martinez, Ortiz)
Wylie LL – no May update
(Wylie Schools)
2023 All-Star info:
Change for 2023: After careful consideration the board has decided to implement a fee for All Stars this year. The other leagues in our district have been assessing a fee for many years and while we have been fortunate enough to hold off on this until now the time has come that we must require the fee. The fee will help to offset the costs incurred to the league to field these teams. IF selected to a team you will be required to pay the All Star fee by June 1st. Please see the All Star form for the fee specific to your players division.
Tournament Dates for each division are below:
Machine Pitch (8U) – TBD but will be held in the first two weeks of June. This will be the only tournament for this group.
-District (all divisions): Begins June 16th
-Sections (if advanced): Begins June 30th
-Texas West State (if advanced): Begins July 11th or July 14th depending on age group.
Please be advised that attendance at ALL practices and games is MANDATORY. If you have travel arrangements June 1st through the end of July, it is best not to have your child considered for All Stars.
All Star selections will be announced on Friday, May 19th via Facebook.
RAFFLE TICKETS
Reminder that raffle tickets and money are due May 1st. Please get them to your coach before then so they can turn them in.
We are sorry to inform everyone but there will be No softball this season.
Hey there! We will be starting up our spring work out sessions! These sessions are for anyone who is willing to show up and get some work in! We will be working on perfecting the craft of football. While spring workouts are going on it'd be nice to see kids of all ages coming out to workout together. The young feed off the older kids energy while the older kids become leaders showing the young what hard work and dedication can get you in the long run!
Work out will start at 2 P.M Sunday the 30th
Location: Rose park across from the skating park
Youth Hockey
https://www.abileneysa.org/wp-content/uploads/2019/07/AYSA-Logo-Web-300x138.jpg
0
0
Tucker Smith
https://www.abileneysa.org/wp-content/uploads/2019/07/AYSA-Logo-Web-300x138.jpg
Tucker Smith
2023-04-28 19:21:01
2023-04-28 19:30:07
May Locker Room News