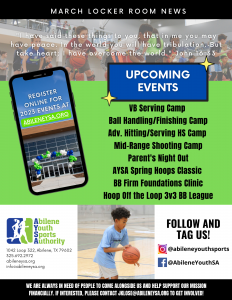 ————————————————————————————————————————————————————————————-
CITY LEAGUES
Please check below to see what leagues are saying in regard to their Fall seasons. All responses have come directly from each league's website/Facebook/Email. If you have any questions, please get with your league to get them answered! Please check leagues' individual websites for more information about season information, schedules, practices, rosters, and any important information.
League News & Upcoming Season Info
Youth Tennis  –
Junior Team Tennis (JTT) Spring Schedules Are LIVE!!!
https://abilenetennis.org/?p=869&fbclid=IwAR2H0wn_NxpnGrgaDF6hEcPJMOO96lwc_U35WkkV-n2t7XAuSk4laVRQSao
Youth Basketball
AYSA – all our basketball programs are listed HERE
Youth Baseball
Our online merchandise store closes March 3rd. All items are preorder and should be ready up to 2 weeks after store closes. All proceeds represent our league. Hats, Hoodies and Tshirts (Cotton, Bella Canvas, Dri-Fit) are available in a few color options. Team Roster shirts will be coming soon. Visit the link below
to view the merchandise store.
https://txspabilene.com/collections/eastern-little-league?fbclid=IwAR0BUn4KVx-LtIK2TlOQyJSvddvelf_dxszU6otKduM9n3ZXdZl2r4FKah8
(ACS, Bowie, Craig, Purcell, Stafford, Thomas, & Taylor)
Games will begin the week of March 20th and Opening Ceremonies will take place in the morning on Saturday, March 25th.
(Alcorta, Bassetti, or Ward)
Registration is officially closed!
(Austin, Bonham, & Dyess)
Sr league registration is open until April 26, 2023, at quickscores.com/anll.
(Jane Long, Martinez, Ortiz)
Wylie LL – no March updates
(Wylie Schools)
Lights are finally up so finishing touches on all the hard work can begin. That being said…..
We will be having a volunteer work day this Saturday, March 4th @ 9am and we need your help!!
The board has been working very hard on improvements the past few months but we could use all the help we can get on final touches. So please come out if you can!
Kenny's Closet will be open again for pickup/drop off Tuesday, March 7th from 5:30-7pm! Remember all items are FREE! Get what you need, leave what you don't!
Our 2023 merchandise order is live!!!
In addition to some awesome Jim Ned items, we are excited to announce that we are offering "fan" shirts for each team this year, which include the team roster printed on the back! (YAY!!) Please make sure you select the correct division, then team name when ordering as some teams' names are repeated between divisions this season.
You have until midnight Sunday, March 5th to order and a portion of each item purchased is donated back to our league!
Youth Softball
Abilene Fastpitch Softball Association – 
Coach's meeting & draft was great! THANK YOU to the coaches who attended the meeting & have committed to coachin! We still need coaches for weeball, 10U, 12U & 14U.
Parents, for the teams who already have a coach, you should hear from them this week. For all others, please be patient as we try & look for more coaches. If you know anyone who might be interested, please send them our way! Thank you!
USA Softball of Texas District 11
Youth Soccer
Big Country Soccer Association –
Coaches, Players, and parents
Due to the prolonged outage of GotSport, our registration system from North Texas that allows background checks, holds safe sport results, handles scheduling, and all other aspects of league play, we have made the hard decision to delay the season by 1 week. We are posting this announcement on Facebook first because all emails are stored in the GotSport as well. As soon as the system becomes available, we will be sending this out by email also. We have been told they expect it up by Monday.
The delay of the start of the season will also push back our field work day to March 4th and our returning referee field session to March 5th.
We apologize for any inconvenience this has caused. We cannot wait to get everyone back to the pitch and playing soccer.
Thank you for your understanding and all the hard work you will put in this season for the players and their teams.
Youth Football 
CLICKHERE for all information on Abilene Football Leagues, including:
Abilene Hurricanes– no March update
Register now! https://abilenecowboyfootball.com/?fbclid=IwAR22a1tcfnnkls8D68OnO8rza_-FfGQAMb1m8uo1D9fyaGR-t4Sw4rD1LUQ
Equipment turn in this Saturday, March 4th @ 825 S. 25th St from 10am-1pm
If you can't make it but have equipment to turn in please contact a board member so we can make arrangements.
*Don't forget: purple bag, shoulder pads, and helmet
*if you cannot be there, please contact team mom or another player to take and drop off your equipment for you*
Attention Bucs Family (and our future young Bucs)!!
This time…we asked and you answered!!! We are excited to announce that the Bucs will be taking our talents to TYFA.
Click the link below to register for the 2023 season! We are already planning summer conditioning and can't wait to get started and see the Bucs family together again!
https://form.jotform.com/230465340204040?fbclid=IwAR22gEikBXAwemSxv5Qpmb6vQje6GFs8dIDFR9g_b8wMiVYDo6zSR29Y4qQ
https://www.abileneysa.org/wp-content/uploads/2019/07/AYSA-Logo-Web-300x138.jpg
0
0
Tucker Smith
https://www.abileneysa.org/wp-content/uploads/2019/07/AYSA-Logo-Web-300x138.jpg
Tucker Smith
2023-03-03 21:03:49
2023-03-03 21:03:49
March Locker Room News