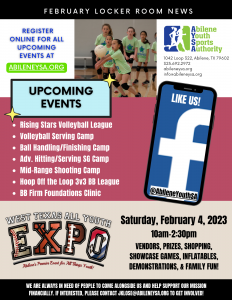 ————————————————————————————————————————————————————————————-
CITY LEAGUES
Please check below to see what leagues are saying in regard to their Fall seasons. All responses have come directly from each league's website/Facebook/Email. If you have any questions, please get with your league to get them answered! Please check leagues' individual websites for more information about season information, schedules, practices, rosters, and any important information.
League News & Upcoming Season Info
Youth Tennis  –
Come by and see us at the West Texas All Youth EXPO on February 4th and pick up information for Junior and Adult Tennis
Youth Basketball
AYSA – all our basketball programs are listed HERE
Youth Baseball
REGiSTRATIONS CLOSING SOON
Get those kids signed up while there is still time. We are looking forward to having a great season at Eastern Little League this season. REGISTRATIONS CLOSE THIS SATURDAY, FEBRUARY 4, 2023 AT 11:59pm
Divisions/prices below
and include the $20 city-mandated fee per registrant for use of city facilities.
Challengers – $45
TeeBall (4-5 yr olds) – $90
Coach Pitch (6-7 year olds) – $110
Farm/Machine Pitch (7-8 year olds) – $110
Minors – (8-10 year olds) – $150
Majors – (10-12 year olds) – $150
(ACS, Bowie, Craig, Purcell, Stafford, Thomas, & Taylor)
Registration closes February 4th!!
Coaches/volunteers/Team helpers:
Please check your email and complete the background check process ASAP.
If you are planning to coach or help during the season, make sure you have registered to be a volunteer on the website. An email will be sent to you to complete the process.
For the safety of our players, this must be completed before you will be permitted to coach or help.
(Alcorta, Bassetti, or Ward)
Pre-Order your Dixie Merchandise NOW!
Various Styles offered with each design.
(Austin, Bonham, & Dyess)
If anyone still needs to make a payment please use the cash app.
We will also be there Monday if anyone needs to turn in paperwork and pay! $AbiNLL
Tryouts for Minor and Major League at Richard Garcia Field
Friday, February 3:
Minors 6pm
Majors 7pm
Saturday, February 4th:
Minors 12pm
Majors 1pm
Juniors at Jr/Sr field 12pm
(Jane Long, Martinez, Ortiz)
Wylie LL – 
Baseball Tryouts Date Changed:
League age- 11-12 year olds (any 10 year old who wants to try out for majors)
February 6th and 7th
6-8pm
Get your 2023 Wylie Little League Gear!!!! Online store closes February 18, 2023!!! https://www.lilcattilac.com/collections/online-store/Wylie-Little-League?fbclid=IwAR3qDB_lz_BPauUQzczgwderaXNbtR_cSlK2F4LcGyuYaPzcLQ5bFywWPJY
Youth Softball
Abilene Fastpitch Softball Association – 
We are LIVE!!!
Go register now!!!
SELECT TEAMS
We are trying to get select teams together for Spring ball so that we can have a Select Team Night!! No cross-playing (select vs league). This will be strictly select vs select. Let us know if you're interested!!
** We are trying to see if we would have enough teams to make this possible so SPREAD THE WORD!! **
Registration for Spring 2023 is open!
PLEASE NOTE
The registration process is different this year. (Google form)
There are two separate registrations – one for wee ball/tee ball and one for girls 6u-14u.
If you are registering more than one player, you will need to complete a registration for each player separately (you will have the option to select a sibling discount on additional players when completing their form).
Registration will not be accepted until the entire form is completed and payment is received.
Players new to WFSA will need to email a scanned copy (no pictures!) of their player's birth certificate to wyliesoftball@gmail.com before registration closes.
Registration closes February 15th. Games will begin March 20th.
Registration link for Wee Ball (2-3 yrs) or Tee Ball (3-4 yrs)
https://forms.gle/hnQZLr4XvtRgrNUk9
Registration link for girls 6U – 14U (ages 5-14)
https://forms.gle/RJT7pTwtnozwaD1s8
You can also scan the appropriate QR code in the picture below.
Email us at wyliesoftball@gmail.com with any questions!
Abilene Boys & Girls Softball Association – no February update
USA Softball of Texas District 11 
Youth Football 
CLICKHERE for all information on Abilene Football Leagues, including:
Abilene Hurricanes– no February update
 Keep a lookout for registration information to be posted and updated soon.
We will also be at the Dodge Jones Youth Sports Center for the WEST TEXAS ALL YOUTH SPORTS EXPO this February 4, 2023.
From 10:00am – 2:30pm
We will be taking early Registration there as well.
THANK YOU again On Behalf of the Abilene Cowboys Organization to ALL OF OUR CHEERLEADERS AND FOOTBALL PLAYERS for putting all your hard work and dedication into this past season CANT wait to see how much more you have achieved in this upcoming season 2023!
Wylie Bulldogs – no February update
1st Annual Unfinished Business Tournament
February 4th & 5th
Good Morning and Happy New Year!! Registration is now open for the Abilene Hockey 2023 Spring Season (Adult and Youth Leagues)! You can register online at
abilenehockey.com
or at one of the scheduled in person events. If you have questions please reach out to us here or by email at info@abilenehockey.com. See you at the rink!
https://www.abileneysa.org/wp-content/uploads/2019/07/AYSA-Logo-Web-300x138.jpg
0
0
Tucker Smith
https://www.abileneysa.org/wp-content/uploads/2019/07/AYSA-Logo-Web-300x138.jpg
Tucker Smith
2023-02-01 20:54:44
2023-02-01 22:08:10
February Locker Room News