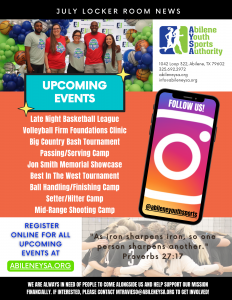 ————————————————————————————————————————————————————————————-
CITY LEAGUES
Please check below to see what leagues are saying in regard to their Fall seasons. All responses have come directly from each league's website/Facebook/Email. If you have any questions, please get with your league to get them answered! Please check leagues' individual websites for more information about season information, schedules, practices, rosters, and any important information.
League News & Upcoming Season Info
Youth Tennis  –
SUMMER GROUPS- starting June 13th and continuing all summer excluding the week of July 24th.
One-hour groups are $10 for members, and $12.50 for nonmembers. 2-hour groups are $20 for members and $25 for nonmembers.  A Junior membership is $75 for one year.
Call or stop in the pro shop to sign up 325-676-6292. Text Casey for questions 325-455-4770.
Youth Basketball
AYSA – all our basketball programs are listed HERE
Youth Baseball
Abilene Eastern LL – no July update
(Lee, Johnston, Bowie, Thomas, Taylor, & ACS)
Abilene Southern LL – no July update
(Bassetti, Ward, or Jackson)
Abilene Dixie LL – no July update
(Austin, Reagan, Bonham, & Dyess)
Abilene Northern LL-no July update
Wylie Fastpitch is once again hosting the Texas West State Little League Softball Tournament July 13-16 at Kirby Softball Fields.
We need your help! (age 16 & up please)
10/hour
~parking attendants to collect money
~game scorekeepers
~game announcers
~merchandise table
Please TEXT Michelle at 325-660-3132 if available.
USA Softball of Texas District 11 
Youth Soccer
Big Country Soccer Association –
Fall 2022 REGISTRATION IS HERE!
JOIN US!
Registration Dates: May 10th – July 3rd
Late Registration Dates: July 4th – July 10th
Registration Fee: $75.00
Late Registration Fee $90.00
Ages 3-14 ( Must be 3 by July 31, 2022)
Youth Football 
CLICKHERE for all information on Abilene Football Leagues, including:
Abilene Hurricanes – no July update
NOW IS THE TIME FOR OUR VOICES TO BE HEARD PLEASE TAKE A FEW MINS OUT OF YOUR DAY AND DO THIS SURVEY. WE ARE ASKING FOR BETTER PRACTICE FIELDS AND MORE REPRESENTABLE GAME DAY FIELDS. REPRESENTATION AND PRESENTATION ARE WHAT WE ARE ASKING FOR, FOR THE CITY OF ABILENE AND FROM THE ABILENE COWBOYS…..
Your input is integral to the development of priorities for this plan. If you have not yet done so, please follow the link below to complete the online Master Plan survey.
Please share this post with other community members that may be interested in providing input for the Abilene Parks and Recreation Master Plan.
Any cheer coaches out there!?
If so please let us know if your interested information
Needed: CHEERLEADING COACHES
Recruiting Now!
We need Cheer Coaches for the Fall 2022 Season! If interested, please fill out the Volunteer Form on our website https://wyfac.info/
NEW SEASON NEW LIDS NEW VIBEZZZ
Abilene Bucs & Precision Sports Equipment Will Keep You Lookin
On The Field
CLICK LINK ABOVE & Shop CLEAR or CLEAR REVO Visors (BUCUP2022 Checkout Code… Must Be Able To See Eyes
BIG12 Sports League Page
Rule)
Calling all Abilene Hockey fans and players! Please let the City of Abilene know we need a better hockey rink. Covered rink, locker rooms, better surface, etc… This is the 10 year parks master plan. Please help us by speaking up and taking this survey!
P.S. you need to write in Abilene Hockey in the "other" because we didn't get recognized in the
survey
. Thanks!
https://www.abileneysa.org/wp-content/uploads/2019/07/AYSA-Logo-Web-300x138.jpg
0
0
Tucker Smith
https://www.abileneysa.org/wp-content/uploads/2019/07/AYSA-Logo-Web-300x138.jpg
Tucker Smith
2022-06-30 18:28:37
2022-06-30 18:29:44
July Locker Room News